539.99
KIT - Oval 60x90mm Pro Badge Machine Button Maker-B400 + Oval Mould + 100 Pin Parts + New Stand Cutter
60x90mm - Button Maker B400 Kit with New Stand Cutter
B400-6090OV-S-100N
60x90mm - Button Maker B400 Kit with New Stand Cutter
B400-6090OV-S-100N
60x90mm Pro Badge Machine Button Maker-B400 + Oval Mould + 100 Pin Parts + New Stand Cutter
SKU: B400-6090OV-S-100N
Kit includes:
Button Maker Machine B400
60x90mm Oval Die Mould
100 sets of Pin Parts*
Stand Paper Cutter
Complimentary Photo Paper
*Each set contains: Upper Shell, Plastic Mylar Sheet & Metal Pin-back with a safety pin pre-pinned.
(All product measurements are in the Metric System)
Warranty: ONE (1) YEAR Warranty applies on Machine & Moulds from the date of original purchase.
---
"WHY CHOOSE CHIBUTTONS BUTTON MAKER-B400 KIT?"
"B400-Kit includes all items needed for making custom buttons!"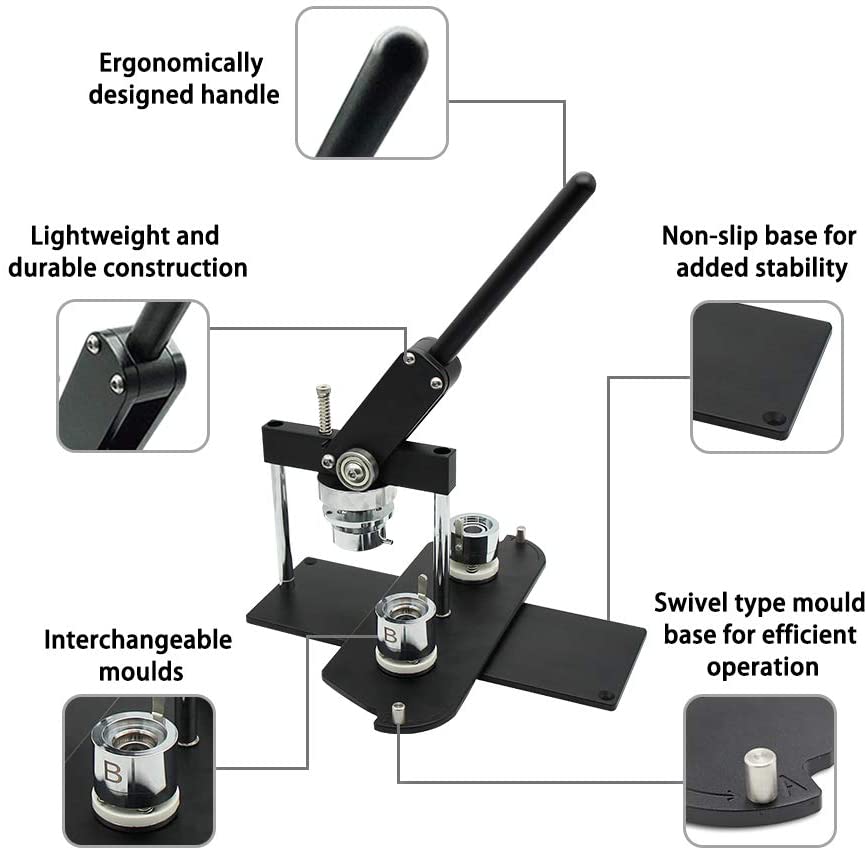 KEY FEATURES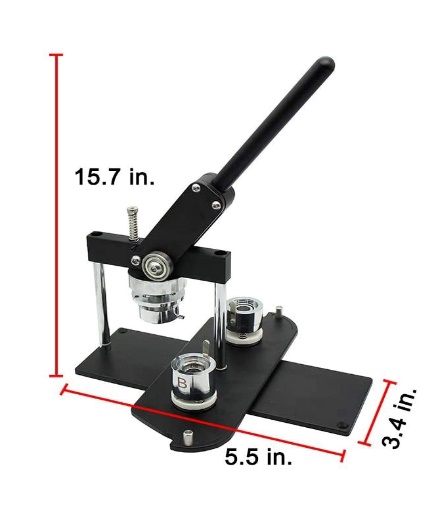 Compact & Durable:  Strong and lightweight machine body made of aluminum and stainless-steel for easy storage and transport; rotating plate with invisible slots for easy and accurate moulds setup; quality handle provides increased comfort and control while making buttons.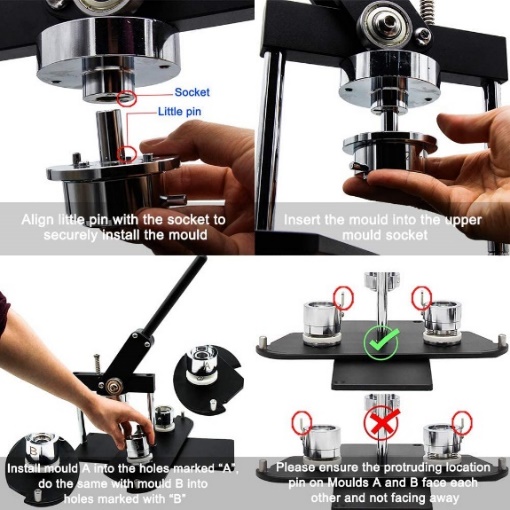 Interchangeable Die Moulds:  Button Maker-B400 works with 3-piece-moulds in different shapes from round, rectangle, oval, square, heart, pentagon, hexagon to triangle; and in multiple sizes from 25mm to 100mm.
    See chart below for more information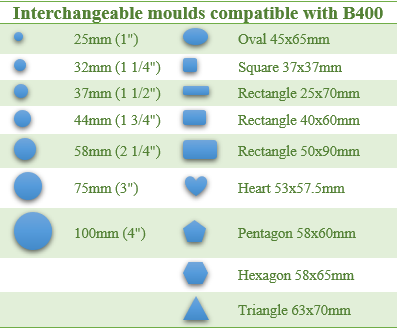 Multi-Purpose:  ChiButtons Button Maker Kit works for schools, libraries, events, campaigns and all sorts of organizations or activities. It is the TOOL for fashion designers, students, and button lovers to make quality buttons with pin-back, fridge magnets, mirrors, keychains, bottle-openers, fabrics and more! You can make use of it for advertising, gifts, souvenirs, customized ornaments for all kinds of purpose. ChiButtons provides full solutions for all badge lover!
---
"WHY CHOOSE CHIBUTTONS STAND CUTTER?"
"This ChiButtons stand cutter is a convenient tool to cut out your graphics.
Add this great asset in your button making tool kit to make graphic cutouts easy and fun!"
An efficient and handy tool to cut out graphics for buttons.

A strong steel and compact body for great product lifetime.

Accurate cutting and easy handling.

Use this hole punch machine to cut out graphics suited for

60x90mm

 Oval buttons.

Final graphic cutting size: 72

x102mm Oval
---
"HOW BIG IS THE IMAGE CUTTING SIZE?"
135g glossy photo (not over 200g) paper is recommended.
---
"HOW TO MAKE BUTTONS WITH BUTTON MAKER-B400 KIT?"
Note:
We recommend putting ONE gasket/washer onto Mould B before making buttons.

Add one more or Remove the gasket/washer if the buttons are not coming out to your liking.

No gasket/washer required for 25mm (1") or New 44mm (1.75") or non-circular sizes moulds.
More Information

| | |
| --- | --- |
| Button Shape | Oval |
| Diameter Size (in mm) | 60x90 |